DisplayPort High Bit Rate 2 (HBR2) [finally explained!]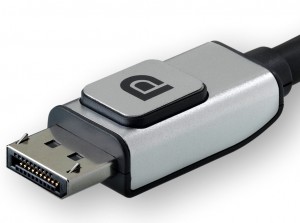 Approved at the end of 2009 along with DisplayPort 1.2, this standard is a significant improvement over the previous version and it doubles of the effective bandwidth to 17.28 Gbit/s, which allows increased resolutions, higher refresh rates, and greater color depth. This is the most common standard, used by the vast majority of video cards in 2014.
The data bandwidth represent the maximum information (in gigabytes per seconds) each version of DisplayPort can send to the output. Because of this shared bandwidth, it is possible to connect many monitors of different make, model, resolution and refresh rate on each cable.
Sponsored ad - links to Amazon
THE BEST gaming laptop on the market in 2023
The total bandwidth of High Bit Rate 2 connections is 21.6 Gbit/s, the Video Data Rate being 17.28 Gbit/s.
Note: Because it was introduced along with DisplayPort version 1.2, which also added the new Multi-Stream Transport technologies, it is now possible to connect more monitors on the same bandwidth, each with their own resolution and refresh rates.
In this mode, you'll be able to connect monitors with these resolutions on one DisplayPort 1.2 output:
Sponsored ad - links to Amazon
An amazing pro-looking, thin bezel 24 inch monitor perfect for day-traders & multi-monitors setups
One 4096 x 2160 (4K) at 60 frames per second (hertz)
One 3840 x 2160 (4K) at 60 frames per second (hertz)
Up to two 2560 x 1600 up to 60 frames per second (hertz), or one monitor up to 120 hz
Up to four 1920 x 1200 up to 60 frames per second (hertz), or one monitor up to 240 hz
Up to four 1920 x 1080 up to 60 frames per second (hertz), or one monitor up to 240 hz
& all lower resolutions and the ones in between. There is a maximum number of monitors that can be connected to any card, so be sure to check in your owner's manual.
& a variety of mix and match resolutions like one 2560 x 1600 and two 1920 x 1080, etc, as long as the total resolution is below the total bandwidth available